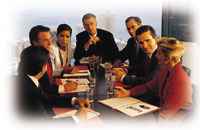 TCI works in concert with each client to build a Strategic Company Brand Consensus. It may be for the business itself, or for a specific product or service. Our our RRRR(sm) methodology is a proven business formula to frame the success of the assignment. Existing Equity may be leveraged forward and any legacy market positioning can be evolved into the new Brand Strategy. Research may include Product & Category Research, Focus Groups, Shelf & Competitive collateral studies.
From approved concept to supervised execution, TCI uniquely bridges the strategy implementation in all your medias from traditional corporate print collateral to digital Internet and leading-edge multimedia.
As no two of our clients are alike - except for their desire for excellence - no two solutions are alike. We do believe that "Product is Hero," and succinctly conveying that message is the number one priority. Our proprietary methodology is applied to all assignments, so that the proper steps are engaged and the most logical, beneficial consensus is achieved. Successful campaigns have won TCI praise and the loyalty of our regional and national clients for over twenty years.