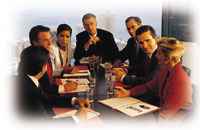 TCI has the expertise to develop the strategy necessary to sell your company, product or ideas. Businesses from Southern California to China have brought us products and business in need of a new marketing strategy.
We work closely with you to research the existing marketplace, strategize viable tactics, resolve issues as they develop, and supervise your assignment from concept to execution.
We also have the experience in print, radio, television, magazine, internet and multimedia advertising to assist in the realization of that marketing strategy.
TCI also has expertise in:
Creative Strategies with effective "call to action" marketing
Sell-through Marketing Planning and Implementation
Cost reduction margin improvement