The Todaro Design Group has been a Preferred Design Partner / Vendor with Mattel Toys at their world Headquarters in El Segundo California since 1989, primarily in the Mattel Package Design Group.
TDG is very experienced with the Disney brand and has worked on projects from Snow White, Lion King, dozens of Disney Infant and Preschool color and packaging projects.
Tony developed the redesign of the DISNEY PACKAGING appearance in the

form of a RAINBOW header and wrap package appearance, personally executed all Computer Design and Illustration and wrote a "white paper" Style Guide for designers around the world. He handled the color studies including testing variations of film output for overseas printing. Final film was generated under Tonyís supervision and appears on over $100 million of Mattel packages in the Disney Infant, Preschool, Core and Entertainment categories.
We also designed and developed the Mickey Mouse Pad Sell Sheet for Disney Software taking it from concept to press in one week!
Other projects for Mattel have included package production internationally of DEMOLITION MAN and packaging color studies for THE FLINTSTONES MOVIE from Universal/Amblin/Turner.
Product Isle Displays

Other projects when Mr. Todaro was Creative Director for Benchmark Group/Interbrand included Barbie Lane, a complete in-store isle display system, including isle headers and shelf talkers; design and production of the K-MART HOLIDAY BUYERS GUIDE for Mattel with MasterCard cross-promotion.
---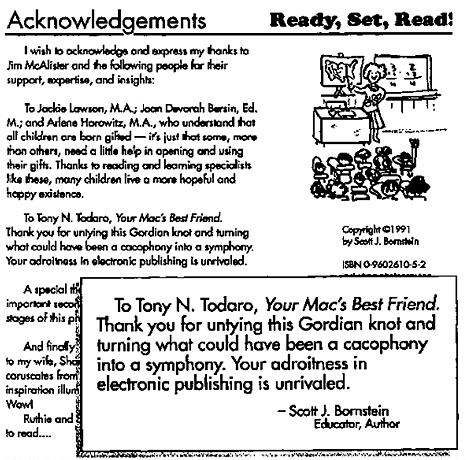 Todaro Design has been involved in a number of Family based products and Industries over the years. Tony also personally designed the popular Ready Set Read! for children and persons new to this country and the English language.
Read, Set, Read! consisted of an in-depth illustrated full size book, plus a series of audio cassettes.
---