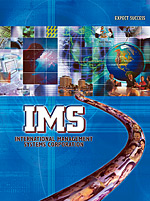 IMS is a Major Information Technology Service Industry Company with headquarters in Southern California for over 30 years.
TCI authored new corporate copy in close relationship, working with President, Executive Vice President and corporate staff to strategically position company philosophy, update image and preserve legacy equity of brand.
TCI straegized and authored Grand Corporate Client Folder and Brochures, large cover featuring "People Pipeline" image concept and the "world of IMS" illustrated.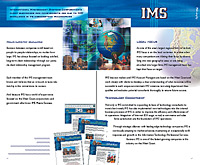 Typical page spread for B2B corporate collateral [right]. Company positioned Services, Features and Benefits to Client base.
The oversized Grand Brochure included stair-stepped pages to encourage the reader to move through the piece, with a generous back pocket for client specific one-sheets, timely updates. A matching, 4-color sheet was mass-printed without type for in-house short run print.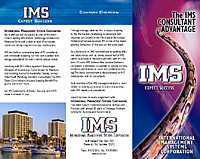 IMS Consultant Folder and Brochures: Exciting mini-brochure that overviews Features and Benefits of the IMS relationship to consultants; #10-sized folder also included back pocket for consultant benefits, specific one-sheets, timely updates.
Also authored 12 page detailed Consultant Benefit package. It is reiterated on the website as an easily, downloadable PDF file, which saves print cost and speeds consultant information.